Tor Connection assistant
Tails 4.20 completely changes how to connect to the Tor network from Tails.
After connecting to a local network, a Tor Connection assistant helps you connect to the Tor network.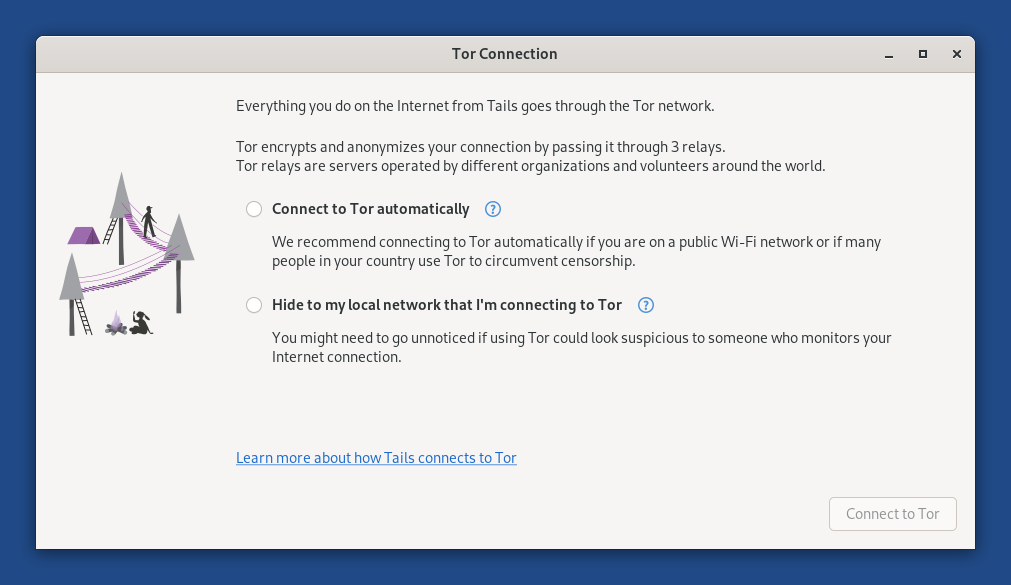 This new assistant is most useful for users who are at high risk of physical surveillance, under heavy network censorship, or on a poor Internet connection:
We know that this assistant is still far from being perfect, even if we have been working on this assistant since February. If anything is unclear, confusing, or not working as you would expect, please send your feedback to tails-dev@boum.org (public mailing list).
This first release of the Tor Connection assistant is only a first step. We will add more improvements to it in the coming months to:
Changes and updates
Fixed problems
Automatic upgrades
Tails Installer
For more details, read our changelog.
Known issues
See the list of long-standing issues.
Get Tails 4.20
To upgrade your Tails USB stick and keep your persistent storage
To install Tails on a new USB stick
Follow our installation instructions:
The Persistent Storage on the USB stick will be lost if you install instead of upgrading.
To download only
If you don't need installation or upgrade instructions, you can download Tails 4.20 directly:
What's coming up?
Tails 4.21 is scheduled for August 10.