Tails 5.12 is out
New features
Data deletion when deactivating a feature of the Persistent Storage
After you turn off a feature of the Persistent Storage, you can now click the Delete Data button to delete the data stored for this feature.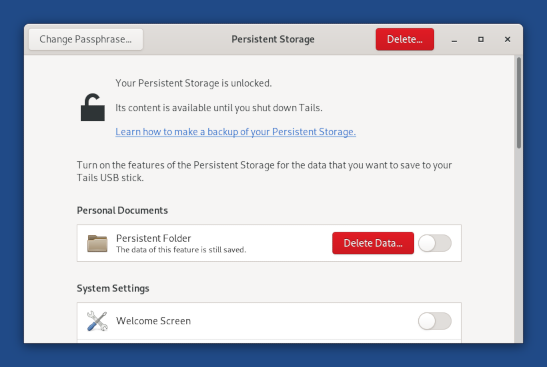 Passphrase suggestion when creating the Persistent Storage
When creating the Persistent Storage, a random and very secure passphrase is now displayed as a suggestion: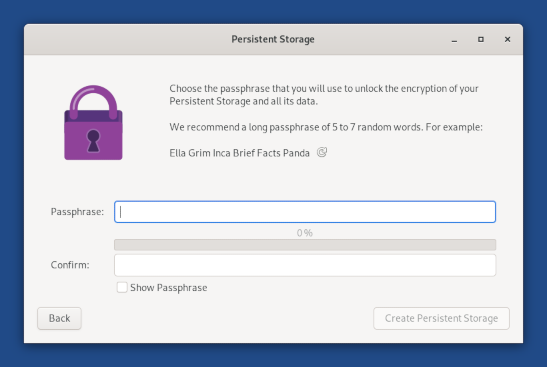 This passphrase uses the diceware method to give very strong security guarantees while being possible to memorize.
For example, a six-word passphrase like we suggest would take 3 505 years to crack at a trillion guesses a second.
Learn more about the maths in The Intercept: Passphrases That You Can Memorize — But That Even the NSA Can't Guess.
Changes and updates
Fixed problems
We fixed several reliability issues with the Persistent Storage:
For more details, read our changelog.
Known issues
None specific to this release.
See the list of long-standing issues.
Get Tails 5.12
To upgrade your Tails USB stick and keep your persistent storage
To install Tails on a new USB stick
Follow our installation instructions:
The Persistent Storage on the USB stick will be lost if you install instead of upgrading.
To download only
If you don't need installation or upgrade instructions, you can download Tails 5.12 directly: