Donate to fight surveillance and censorship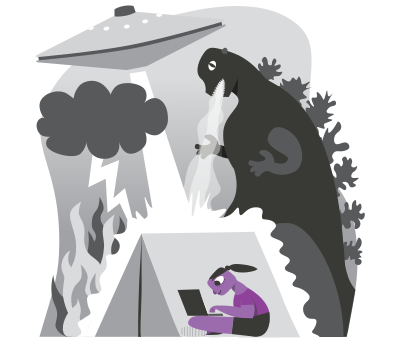 Tails is their strongest protection
At Tails, we build a liberating operating system that puts people in control of their digital lives:
Journalisten und Whistleblower benutzen Tails, um Fehlverhalten von Regierungen und Konzernen aufzudecken.
Activists use Tails to avoid surveillance and organize their struggles for liberatory social change.
Domestic violence survivors use Tails to escape surveillance at home.
Privacy-concerned citizens use Tails to avoid online tracking and censorship.
Tails is and will remain Free Software because the most vulnerable and oppressed people are the most in need of privacy and security.
Donations from passionate people like you are our most valuable source of funding because they guarantee our independence. We are a very small nonprofit and our yearly budget is ridiculously small compared to the value of Tails.
In Dollar spenden
Wiederkehrende Spenden
Monatliche und jährliche Spenden, auch die kleinsten, sind für die Nachhaltigkeit von Tails am wertvollsten. Sie benötigen ein
-Konto.
Einmalige Spende
Does not require a
account.
Ihre Spende geht vollständig an Tails und wird durch Riseup Labs, einer gemeinnützigen Organisation nach 501(c)(3) in den USA, abgewickelt.
Spenden sind bis zu dem vollen gesetzlich festgelegten Rahmen von der Steuer absetzbar.
If you need a donation receipt, contact us at tails-fundraising@boum.org.
Andere Möglichkeiten zu spenden
Bitcoin
Monero
4B93hjotwmMQeaZ799D84XTxhqUGqqjfveUTB1GeduAKNeH47WDyn5eb8P2mtScErGbsbL5X3J6vUPAVPrw8j5pMFh6dAwY
Ethereum
0xD6A73051933ab97C38cEFf2abB2f9E06F3a3ed78
Other cryptocurrencies
Bitcoin Cash
qrzav77wkhd942nyqvya34mya3fqxzx90ypjge0njh
Ethereum Classic
0x86359F8b44188c105E198DdA3c0421AC60729195
Litecoin
MJ1fqVucBt8YpfPiQTuwBtmLJtzhizx6pz
Supporting more cryptocurrencies implies more work for us: learning how they work, installing the software in a secure place, monitoring their value and trading them, etc.
To make a good use of our time, we focus on the cryptocurrencies that are the easiest for us to accept and the most popular.
Until now, cryptocurrencies other than Bitcoin, Ethereum, and Monero represent less than 1% of our donations in cryptocurrencies. We want to see other cryptocurrencies gain real popularity before spending more time on them.
Banküberweisung
German bank account (preferred)
These instructions also work with Wise.
Kontoinhaber: Center for Cultivation of Technology gGmbH
IBAN: DE65 4306 0967 4111 9411 01
BIC: GENODEM1GLS
Bank: GLS Gemeinschaftsbank eG
Adresse der Bank: Christstrasse 9, 44789, Bochum, Germany

Please make sure to mention the purpose of transfer:

Verwendungszweck: TAILS-R43NGFR9

Ihre Spende geht vollständig an Tails und wird vom Center for the Cultivation of Technology (CCT), einer gemeinnützigen Organisation in Deutschland, abgewickelt.
Spenden sind bis zu dem vollen gesetzlich festgelegten Rahmen von der Steuer absetzbar.
Cash and US check
You can send us cash in any currency and US checks by post:
Riseup Labs
PO Box 3027
Lacey, WA 98509
Please add a note that your donation is for Tails.
Checks should be made payable to Riseup Labs.
Corporate matching donation programs
Search for Riseup Labs and donate to Tails via Riseup Labs.
If you cannot specify that your donation to Riseup Labs is for Tails, please let us know so we can attribute your donation to Tails specifically. Riseup Labs is a 501(c)(3) nonprofit in the USA.
Contact
If you have any question or problem regarding your donation, our fundraising team is here to help you:
Wie wir unser Geld verwenden
Our biggest satisfaction comes from the growing popularity of Tails.
From the number of automatic upgrades, we know that Tails was used by around 25 000 people every day in 2022.
We keep people safe more than 10 million times every year, for a budget under $350 000.
See our financial records.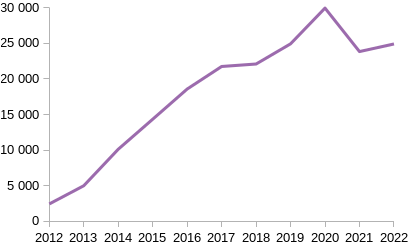 Where our money comes from
Our sponsors
All donations, grants, and awards of more than $1 000 appear in our list of sponsors.
Come talk to us and become a sponsor yourself!