Viewing the circuits of Tor
Viewing the circuits of Tor
Onion Circuits muestra información sobre los circuitos actuales y las conexiones de Tor.
To open Onion Circuits, click on the Tor status icon in the top-right corner and choose Open Onion Circuits.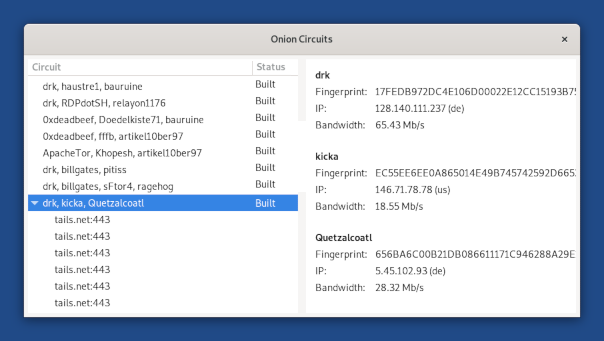 Los circuitos establecidos por Tor aparecen listados en el panel de la izquierda. Un circuito de Tor está compuesto por tres repetidores:
The first relay or entry guard. If you configured Tor bridges, one of your bridges is the first relay.
El segundo repetidor, o middle node(nodo del medio).
El nodo de salida.
Cuando te conectas a un servidor de destino, por ejemplo al visitar una web, la conexión aparece en la lista bajo el circuito que está utilizando.
En el ejemplo de abajo, la conexión a check.torproject.org pasa a través de los repetidores tor7kryptonit, Casper03, y el nodo de salida blackfish.
Si seleccionas un circuito aparecerán detalles técnicos sobre los repetidores del circuito en el panel de la derecha.